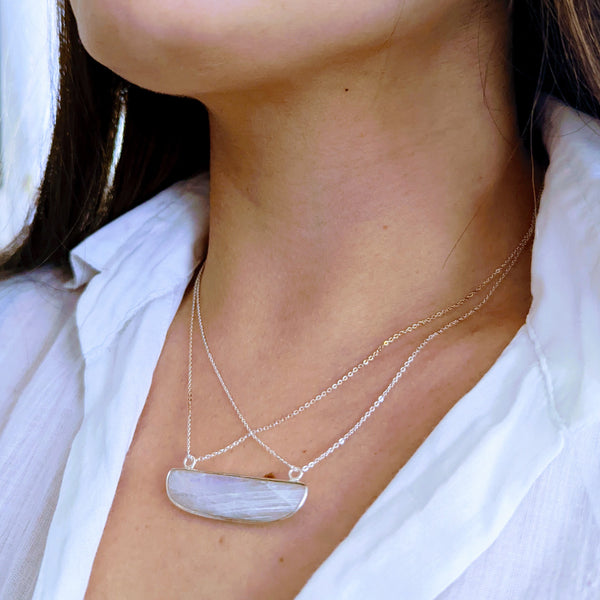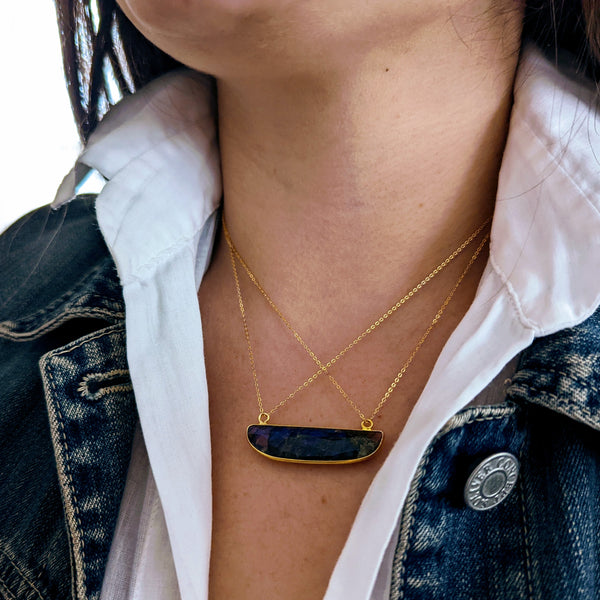 JONNA Double-Strap Necklace 'Labradorite' OR 'Moonstone'
Diagonal cross-over chain, with Moonstone or Labradorite pendant.
Chain available in 14K Gold-Filled and 925 Sterling Silver.
Length: 16.5 to 18" (with 1.5" extender) 
Labradorite, a mineral of the feldspar group, first discovered on the "Labrador" Peninsula, it was believed to have fallen from the frozen fire of the Aurora Borealis.
Keywords: Prophecy, Clairvoyance
Wearing Labradorite allows one's innate magical powers to surface. It enhances the mental and intuitive abilities of clairvoyance, telepathy, prophecy and coincidence control. Labradorite tempers the negative side of our personality, the traits and actions that rob our energy and may produce depression or shame. It assists in reducing anti-social, reckless or impulsive behavior in children, teenagers and adults, who are easily led into trouble by others, and may aid in detoxifying the effects of tobacco, alcohol, and to a lesser degree, hard drugs. Labradorite helps develop the hands' sensitivity, making it useful for physiotherapists and all who use the power of touch to heal.
Moonstone As ancient as the moon itself, it holds the power of mystery. Its secrets are locked beneath a pearly veil, and with them, our own hidden truths.
Keywords: Love; Fertility; Protection
Moonstone has been a tangible connection to the magic of the moon - an amulet of protection for travelers, a gift of lovers for passion, and a path to wisdom. Moonstone is known as the Traveler's Stone for protection on land and at sea. Moonstone opens the heart to nurturing qualities as well as assisting in the acceptance of love. It is an excellent crystal for first or new love, and is a comforting talisman if love must be kept a secret. It was also believed to be able to reunite loved ones who had parted in anger. Moonstone is also the stone of love and eroticism, stimulating the kundalini energy.
Origin: Handmade in Los Angeles, CA.