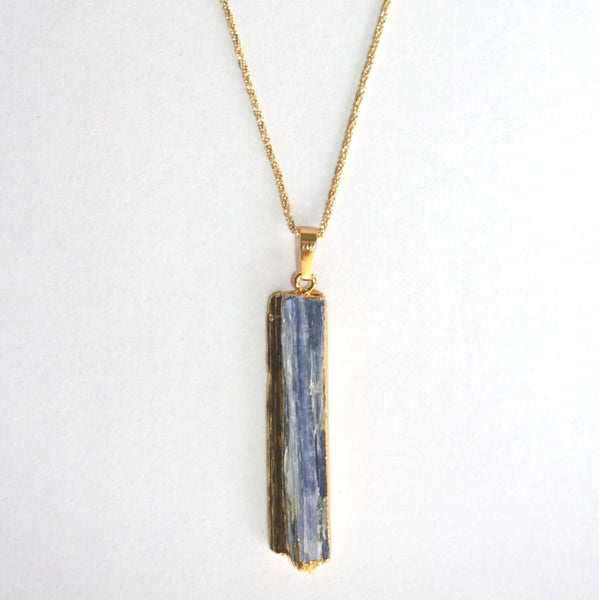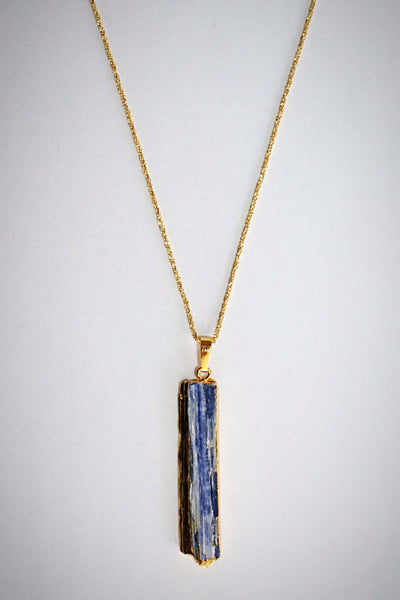 HANNA Vertical Kyanite Necklace - Gold
Long necklace with a vertical Kyanite pendant and lobster clasp closure.
Pendant: Kyanite (the 'Stone of Friendship'), gold dipped.
Measurements:
Chain: 30" Length
Pendant: approx. 1 3/4 - 2 inches 
Material: 925 Gold-Dipped Sterling Silver chain (vermeil)

Kyanite is an aluminum silicate mineral, often occurring as long, striated bladed crystals that may be transparent or translucent with a pearly sheen. The most common colors in metaphysical use are blue streaked with white and indigo.
Keywords: Inner bridges, empathy
Kyanite creates pathways where none existed before. Like a universal bridge, it is an extraordinary crystal of inner connection, opening the mind centers, enhancing telepathic and psychic abilities and bridging gaps in all communication efforts. Kyanite inspires loyalty and fair treatment to others. It assists in working through disagreements and disputes and can aid in repairing damaged relationships. It is beneficial in negotiations, diplomatic missions, arbitration and other forms of communication between disharmonious people, allowing disparate energies to move into resonance and find a common frequency. In the workplace, Kyanite promotes good communication, bridging the gap between different beliefs and ideas, and encourages self-expression and speaking one's truth. Hold or wear Kyanite when addressing a group or leading a seminar or team meeting. It sharpens communication skills and is particularly helpful when answering questions or when there is a need to improvise. 

Origin: Handmade in Los Angeles, CA.