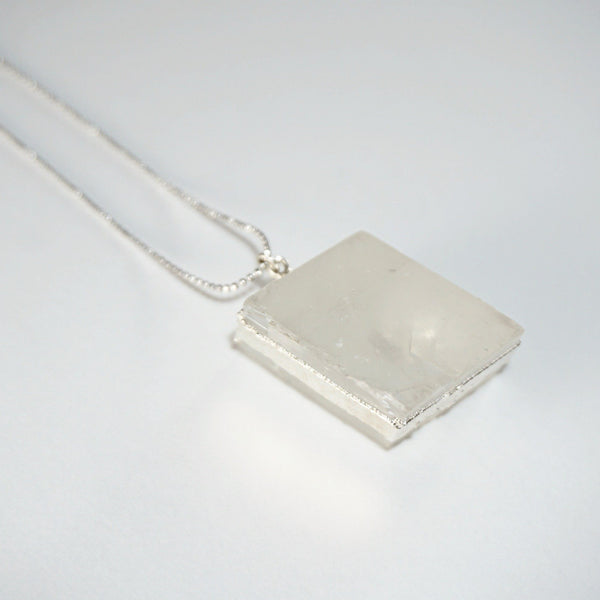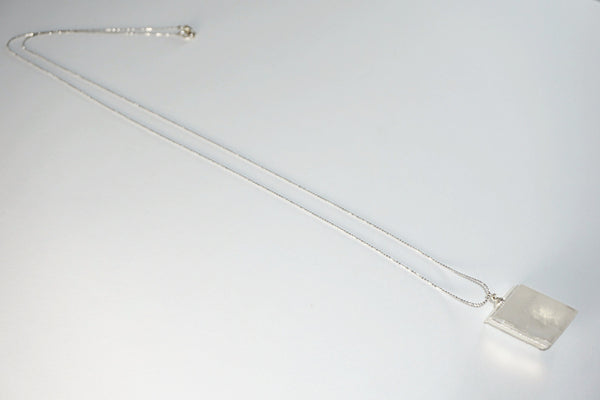 HANNA Calcite Cube Necklace - Silver
Long necklace with a Cubic Calcite pendant and lobster clasp closure.
Pendant: Calcite (the 'Stone of Harmony and Communication'), silver dipped.
Measurements:
Chain: 30" Length
Pendant: approx. 1 inch 
Material: 925 Sterling Silver chain. 

Calcite is used for detoxifying
Keywords: Cleansing, Reconciliation
Calcite is probably the premier cleanser of stored negative energies in the human system. This makes it a very purifying stone. It can also be used to clear negativity in the environment. Optical calcite (Iceland Spar) is particularly good for bringing hope to fearful or stressful situations and provide inner peace. In the realm of relationships, calcite brings its properties of grounding and centering, to make it a stone of reconciliation. Calcite can ameliorate arguments in a relationship and help maintain a practical balance between the people in the relationship. Calcite is also a stone of spirituality and wisdom.

Origin: Handmade in Los Angeles, CA.