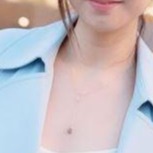 KYA 'Infinite Friendship' Ring Necklace with Labradorite
Meet the necklaces that inspired the entire friendship collection, featuring Labradorite, the "intuition" stone protecting against negativity.
KYA 'Drop/Ring'
Length: 16-18" (with 2"-extender)
Labradorite, a mineral of the feldspar group was first discovered on the "Labrador"-peninsula and believed to have fallen from the frozen fire of the Aurora Borealis.
Keywords: Prophecy, Clairvoyance
Labradorite allows one's innate magical powers to surface. It enhances the mental and intuitive abilities of clairvoyance, prophecy and coincidence control. Labradorite tempers the negative side of our personality, the traits and actions that rob our energy. It can also aid in detoxifying the effects of tobacco or alcohol. Labradorite helps develop the hands' sensitivity, making it useful for physiotherapists and all who use the power of touch to heal.
Handmade in Los Angeles, CA