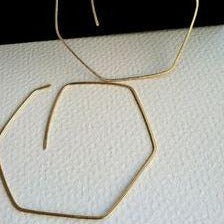 DREA Earring 'HEXA'
"A plane figure with six straight sides and six angles" ... is technically correct. But HEXA by DREA is so much more:  An understated addition to your collection that might just become your new favorite piece in no time.  
14 Karat Gold-Filled
925 Sterling Silver
Origin: Handmade in Los Angeles.